Protect your orders with
Buyer Protection
BUYER PROTECTION protects online orders when payment is made through the Global Cocoa Marketplace Platform.
A Greater Protection
In the event that either Product Quality or Shipment Date varies from what you and the supplier had agreed to in the BUYER PROTECTION online order, we will offer you assistance in reaching a satisfactory outcome.
The Buyer Protection online order is where you and your supplier define product specifications. Please review it carefully, so we can better protect you.
Extended Support
15 days after delivery, if you are not satisfied with the product quality, you may request a refund. We will help you investigate, mediate, and resolve your claim, plus reimburse you when appropriate. Your online order and communication records are the basis of refund resolution.
How to use Buyer Protection
Place an online order with Buyer Protection Suppliers
Look for and only work with Buyer Protection suppliers. You can easily find them by looking for the
Add to cart
symbol
on their products' page
Pay through Global Cocoa Marketplace's secure payment platform
Make sure you pay online via Global Cocoa Markeplace's provided payment details on the platform.
Keep in mind: The basis of protection is the online order. It is only enforced when you pay online via Global Cocoa Marketplace Platform provided payment details.
If there's an issue with your order, request a refund within 15 days of product delivery.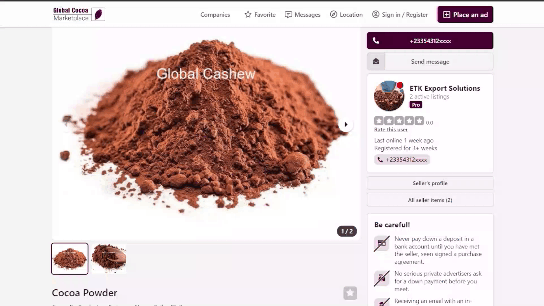 We are here to support you during the process and up to 15 days after products are delivered. Upon product delivery, please do inspect product quality right away to ensure satisfaction.
We've Got You Covered
On the Global Cocoa Marketplace, you can buy and sell raw cocoa,  cocoa by-products, cocoa seedlings, machinery, logistics, services/consulting, jobs and more.